NOVAMATIC 2G
High-productivity internal grinding machines
NOVAMATIC 2G WHEELHEAD UNIT
The unit is made up of two overlapping slides mounted partially crosswise, each sliding on a pair of preloaded V roller guideways.
The wheelhead unit is separated from the working area, thereby operating in an environment devoid of contaminants (such as coolants, lubricants as well as grinding sludge) for the sliding surfaces.
The eletric wheel spindle housing is directly obtained in the Z axis, ensuring limited space requirements and the utmost rigidity of the unit.
The workhead unit is supported by a plate that can be manually swivelled to facilitate set-up and change-over.
Roll-shoe centering fixture with integrated load/unload system.
Mag-drive shoe-centerless device and integrated automatic loader ensuring load/unload times under 1.5 seconds.
Diaphragm chuck type clamping fixture with enveloping jaws. Possibility to mount a diamond ring directly on the workhead for internal and external wheel dressing.
SINGLE-POINT DRESSER
The unit can accommodate holders for one, two or three single-point diamonds depending on the profile to be obtained on the wheel.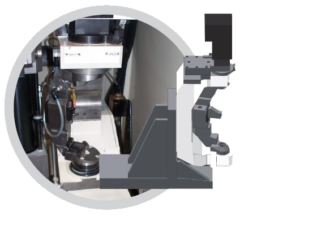 Diamond roll dresser:
The up- and downward motion of the dresser is hydraulically operated. The dressing takes place in plunge system with a profiled roll or by interpolation of the machine axes with a forming roll.
Double-fulcrum rotary dresser:
To obtain wheel radius profiles with form errors lower than 1µ. The unit can accommodate a fixed holder for up to 3 single-point diamonds. The rotation of the dresser holder is electrically controlled by AC motor via gear reducer and encoder (E axis).
Turbine:
Hydraulically controlled electric spindle for the dressing of CBN wheels by means of a diamond cup wheel.